September 26 – 28, 2016
Summerland, BC
"Back to the Future": Looking at Previously Harvested Stands to Help Predict What Current Harvesting Practices Might Bring in the Future
Field Tour Highlights included:
40 year old research trials that provide meaningful long-term results

A real-time Drone Demonstration in the field on Wednesday

An Entertaining After-Dinner-Speaker on Tuesday

This year's field tour is in the heart of Central Okanagan wine country, and we will explore that industry at our pre-banquet wine tasting on Tuesday night.
Background Information About the Focus of the Field Tour
Recent timber supply analysis completed in the southern interior shows that over the next couple of decades, available timber will largely come from managed stands. The future of forestry in the interior of BC is changing – the majority of timber will come from these managed forests within the 'matrix' – the managed portion of the forested land-base in between reserves or inoperable areas. These forests will also be critical for managing for multiple values; water, forage, wildlife habitat.
The 2016 SISCO Fall Field Tour looked back to a series of partial harvested, thinned and fertilized stands near Summerland, BC. These stands were harvested in the late 1970's to early 1980's and provide a snapshot of what many recently harvested forests may look like in the future.
We asked the questions:
Regarding the quantity and quality of timber from these managed stands

Is the volume of timber consistent with projected volumes used in timber supply analysis?

Is the quality of the timber\fibre being generated sufficient to meet market demands?

Will these forests provide habitat for a variety of species, and stewardship of other resource values?
There was a live drone demonstration with examples of actual field applications.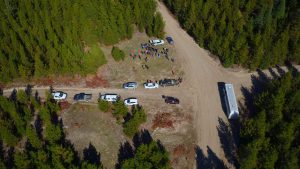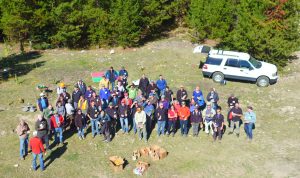 Thank you for joining your colleagues for a conversation about silviculture in the Southern Interior!
The SISCO Executive